African Countries | Ideas for Thinking Day*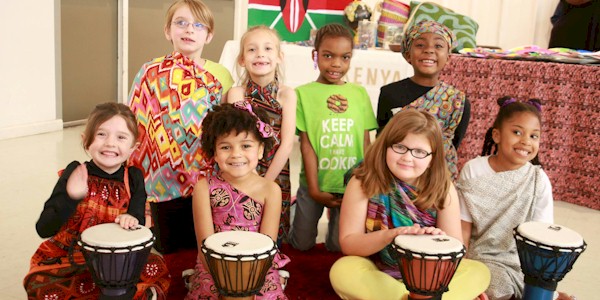 Troop 6022 represents Kenya for their celebration.Despite the fact that many regions of Africa are very poor, many Africans love to dance, sing and celebrate. The countries of Africa are culturally different with hundreds of languages, traditions and religions. MakingFriends®.com has ideas and products to help make your celebration a success.
Fun Fact: Africa has 54 independent, unique countries.
Madagascar Patch
2″ Embroidered, Iron-on

$0.99
Kenya Patch
2″ Embroidered, Iron-on

$0.99
South Africa Patch
2″ Embroidered, Iron-on

$0.99
The vast Sahara Desert in Africa is one of the hottest places on earth but you will also see big cities, mountains and beaches.
The cuisine in Africa is diverse. Food in North Africa was heavily influenced by traders, invaders and migrants who introduced spices, sweet pastries, wheat and semolina.  Couscous is a main staple of the region.  In the South and East grains, beans and vegetables are a big part of the diet with fish as the protein in coastal, lake and river regions. Fruits such as orange, lemon and lime are frequently used in cooking while mangoes, papayas and pineapple are eaten for dessert in these regions.  In the West starchy foods are flavored with hot spices, chilli peppers or sauces such as peanut  In Central Africa plantains and cassavas are the basis of many meals and are often served with meat, bean or vegetable stews.
Mancala is a board game which dates back to ancient times and is still popular today with different versions of the game found in nearly every African country.  Popular sports vary from country to country in Africa but soccer, which is called Football in Africa, is very popular throughout the continent.  Athletes from some African countries have been very successful in long-distance running.  Cricket is also very popular in several African countries.
WAGGGS has 33 member countries in its African region. We have separate Thinking Day* pages for:
If you have chosen an African country we have several ideas on this page as well as pins for swapping, crafts and trading cards for the following countries:
Benin
Congo
Ghana
Ivory Coast
Kenya
Malawi
Mauritius
Uganda
Zambia
Zimbabwe
Other Countries recognized by the WAAAGs association in their African region include: Botswana, Burkina Faso, Burundi, Cameroon, Central African Republic, Chad, Democratic Republic of Congo, Gambia, Guinea, Lesotho, Liberia, Namibia, Nigeria, Rwanda, Senegal, Sierra Leone, South Sudan, Swaziland, Tanzania, Togo.
*MakingFriends®.com is not affiliated with, endorsed by or a licensee of Girl Scouts of the USA